By Zillow Research Team
• Nationwide, rents in the suburbs rose at a faster pace year-over-year than rents in urban areas.
• Suburban rents are rising fastest in Seattle, Portland, Ore., and Los Angeles.
• In San Francisco, the price of an urban rental dropped 0.4 percent, while suburban rental prices climbed 2.6 percent.
For the first time in four years, suburban rents are rising faster than rents in urban areas. The median monthly cost of a suburban rental is up about 2.5 percent year-over-year, while the median cost of an urban rental is up 2.3 percent. At this time last year, the median urban rental price was up 5 percent year-over-year, while median suburban rental prices were up 3 percent.
The trend is more pronounced in booming markets where rent affordability is an issue – places like San Francisco, where people earning the median income pay almost 44 percent of their rent for a median-priced rental.
Years of rent increases have pushed city living out of reach for many renters, who may be choosing longer commutes in exchange for cheaper rental payments. However, 83 percent of renters recently indicated they are confident they'll be able to stay in their homes as long as they want.
The foreclosure crisis pushed many former homeowners to rent the same kind of single-family homes they had owned just a few years prior – many of them very likely located in the suburbs. Laws prohibited many former homeowners from buying again for seven years after their foreclosures. The housing market reflects the shift: 19.2 percent of single-family homes were rented last year, up from 12.7 percent in 2005. Metro areas that had the most intense foreclosure activity – places like Las Vegas and Phoenix –have seen some of the greatest increases in the share of single-family home rentals.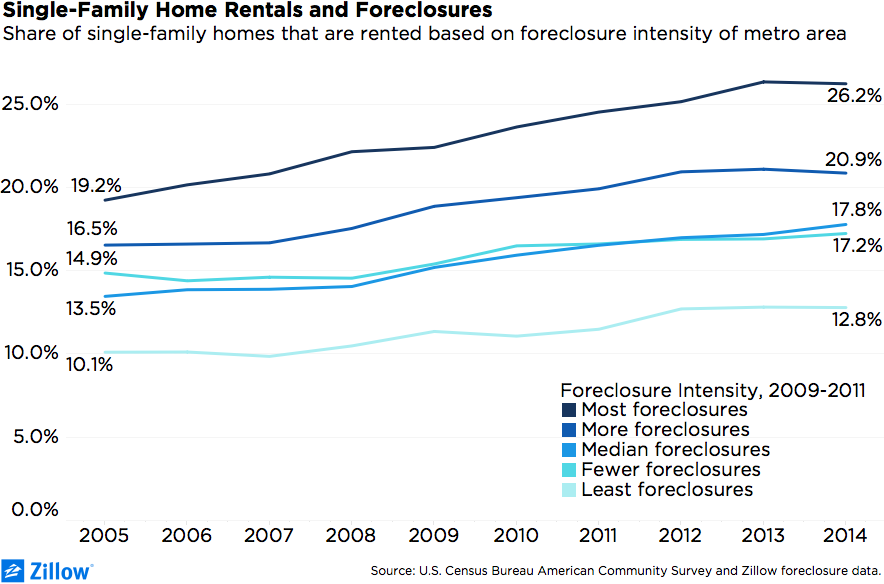 Deteriorating affordability for those looking to buy a home also keeps the pressure on rents themselves. If renters, especially low-income renters, can't afford to transition into homeownership, rental demand will stay high and prices will keep rising. That's true everywhere, and especially in the suburbs, for a couple reasons:
Monthly rent is generally less expensive in suburban communities (even as rents there grow more quickly), and therefore suburbs are currently an increasingly attractive option for budget-conscious renters.
Suburbs also have a higher concentration of single-family homes, which as noted are increasingly popular for renters seeking their additional space and other advantages, but unable or unwilling to purchase a single-family home.
So it's unlikely that suburban rental demand will fade any time soon, unless buying a home becomes less challenging.
While it's always been difficult for low-income residents to buy a home, especially in pricey markets, the challenge has grown considerably in recent years. At the end of 2012 in San Francisco, for example, a potential low-income buyer looking to buy an entry-level home could have expected to pay 43.3 percent of their income on a mortgage payment – a stretch, yes, but probably doable. By the second quarter of 2015, that same buyer looking to purchase the same level of home should have expected to pay 66.8 percent of their income on a mortgage.
Check out the change in rental prices among urban and suburban areas across the country: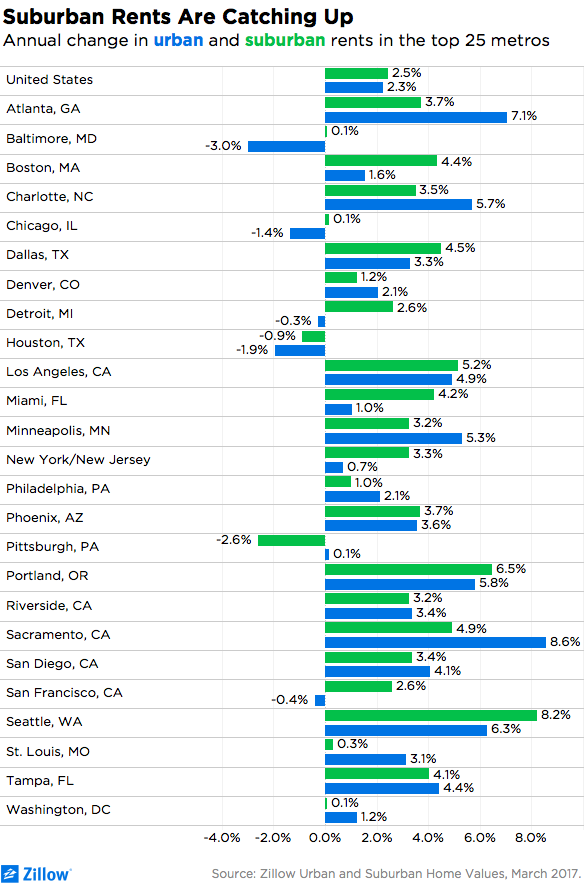 Source: Zillow